Methodology
A Warehouse Management Solution is a significant investment for your organization. At SupplySoft, we know that a solution will be used productively only if it is designed, installed and implemented carefully and intelligently. A proper approach and strategy is crucial to the successful cut-over to a new system and can mean the difference between making your solution a valuable productivity-increasing management tool or a costly and failed investment.
Based on experience drawn from successful projects, SupplySoft's Methodology is designed specifically to allow our clients to get the most from their solution, including optimizing their return on investment and improving their business processes. SupplySoft's Project Management Methodology, based on Project Management Institute (PMI) fundamentals, is comprised of four stages: Planning, Design, Implementation and Post Implementation.
SupplySoft's Project Methodology is outlined below: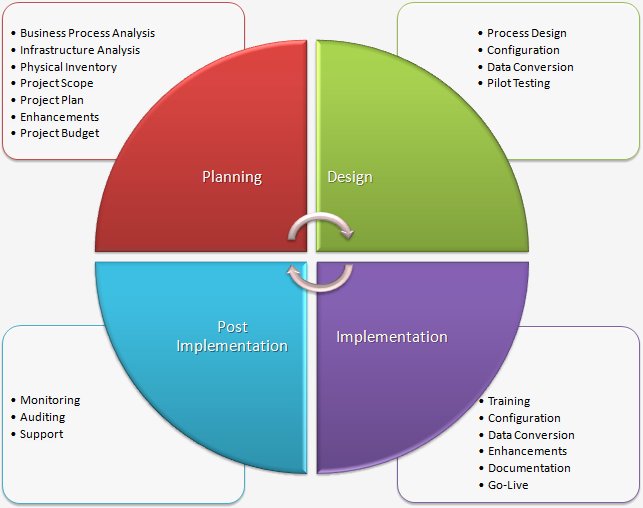 Consulting
With over 50 years of combined experience in driving end-to-end process improvement into global Supply Chain Management processes, our team of consultants are ready to help you gain a competitive edge in today's demanding markets.
SupplySoft Consulting services will help you achieve reduced costs, optimal performance, increased efficiency and great customer service. We will partner with you to implement industry best practices which will improve your processes by eliminating errors, removing unnecesary steps and maximizing assets.
Our process increases the rate of success by providing a single service that is designed to deliver on your objectives. We start with your current operations and develop practical, workable strategies to meet your targets, which can be implemented in a phased approach to minimize the drag on your daily operations, because we understand you have to get your orders out first.
SupplySoft Consulting leverages our extensive expertise and up-to-date knowledge to ensure you make the most of your information technology.
Equipment
SupplySoft is an integrated solution provder that understands that one of the complicating factors for a successful implementation is the fact that multiple technologies and vendors are involved. Navigating the complexity of Hardware, Software, Architecture, Scanners, Mobile Devoces, Printers, etc. is hard enough at the best of times; coordinating this all while executing a time-bound enterprise wide system implementation just adds risk to the project.
SupplySoft can help! Due to our years of experience, we know just what infrastructure is right for you. We can even procure the equipment for you, and provide configuration & support services as well. We do so at very competitive prices, since we are first and foremost a solution provider and not a hardware store and procure in high volumes. Ask your SupplySoft representative for a recommendation and quote to get the equipment that is right for you.